You can easily create your product for affiliates via the marketplace and thereby achieve more sales. In the following we will explain the individual steps.

Click on "Marketplace" in the blue bar on the left. Use the orange "+ New" button to create the entry.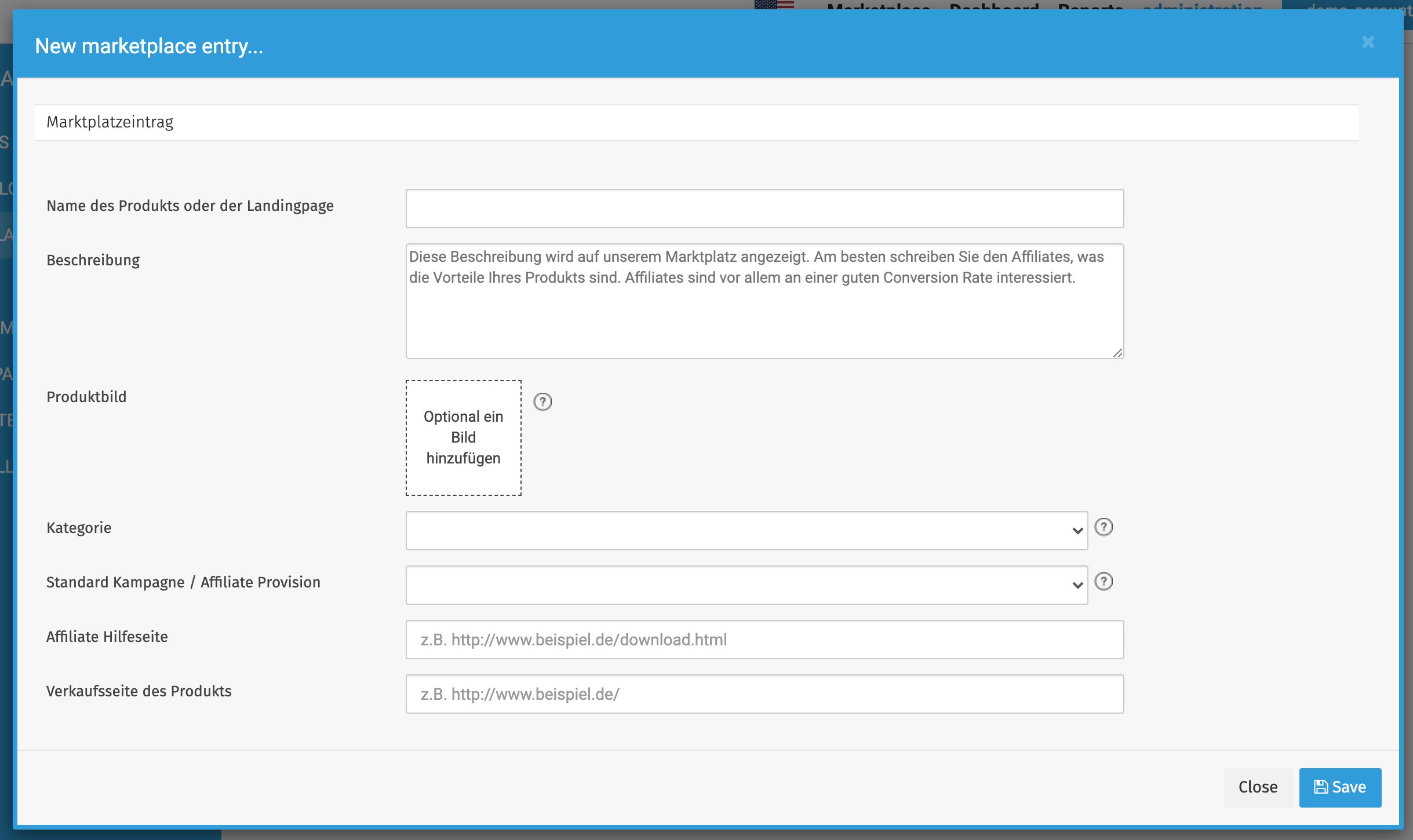 Here is some information about the settings you can make. The fields with an asterisk (*) must be specified. The others are optional.
Name of the product or landing page*

Enter the name of your product or landing page here.

Affiliates can search for this name in the marketplace.

Here you can add a description to your product or landing page.

The description of the product is optional. The text appears below the product name. It is best to tell the affiliates what the advantages of your product are. Affiliates are mainly interested in a good conversion rate.

Find the image that matches your product.

Select a product image from your hard drive or a list of previously uploaded images. The image should be at least 100x100 pixels and ideally square. You can only upload an image after saving it.

Please choose a category under which your entry (e.g. product or landing page) should appear in our marketplace.

Affiliates can filter by category in the marketplace.

Standard Campaign / Affiliate Commission*

Please select a standard campaign for this marketplace entry.

The commission rate for this campaign is displayed in the marketplace for affiliates.
Attention: The actual amount of the commission depends on your individual settings, which you have already stored for your products!

Enter the internet address of your affiliate help page here.

The entry is optional. If you would like to offer affiliates assistance, e.g. in the form of advertising copy, banners, information, etc., you can insert your help page here.

Sales page of the product*

Enter the sales page for affiliates for your product or landing page here.

This is your internet address where affiliates can send potential buyers. Please do not include the link to your order form here.