With conversion and tracking tools, you can record the information of a purchase in order to use it for later analyses or statistics.

To activate conversion or tracking tools, click on the respective product → "Edit" → "Conversion Tools". There you can control various tool integrations via HTML codes. By clicking on the respective tool, the integration is explained in detail.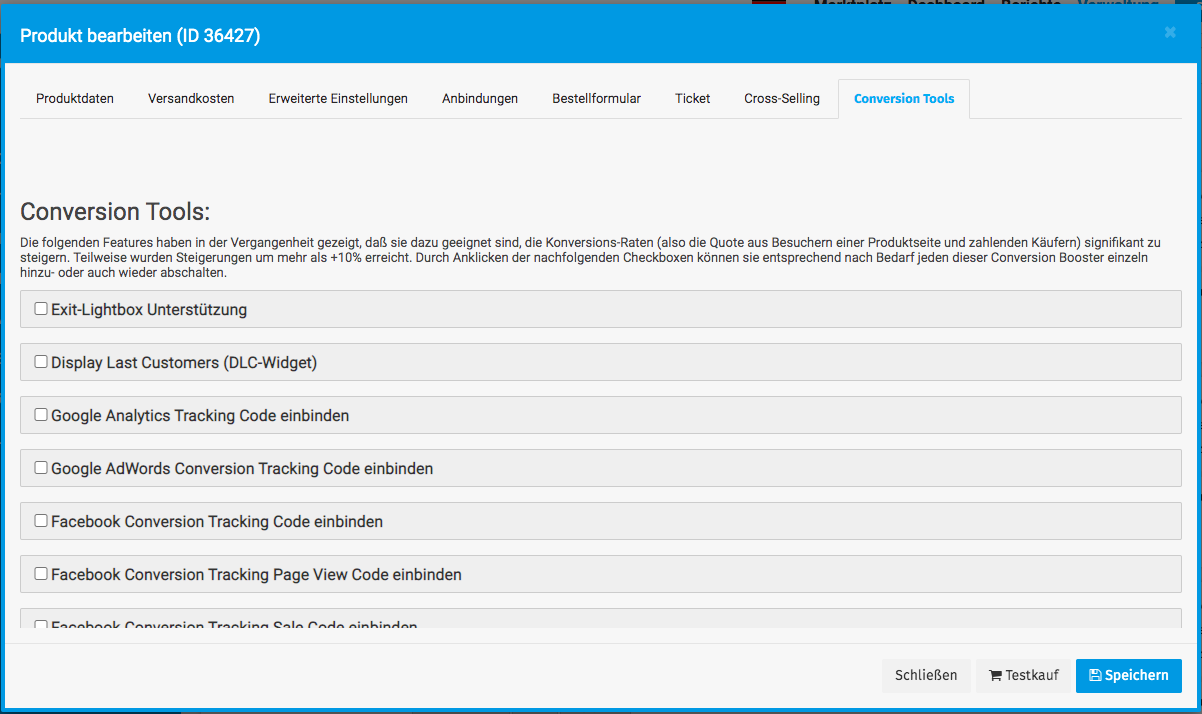 Our conversion and tracking tools
Exit-Lightbox
When the visitor moves the mouse towards the exit on your website, a field appears that can be customised to keep the user on your website.
Google Analytics Tracking Code
This tool is designed for search engine optimisation. The "tracking code" is a script to analyse user behaviour on websites and thus record which virtual "path" the website visitors have taken. This knowledge can then be used to optimise your ads.
Google AdWords Conversion Tracking Code
Dieses Tool ist für die Suchmaschinenoptimierung konzipiert. Die Funktion ermöglicht Dir die Performance Deiner Anzeigen nachzuvollziehen und das Potenzial Deiner Kampagnen vollends auszuschöpfen.
Die Auswertung zeigt, welche Parameter (AdWords) der geschalteten Anzeigen funktionieren und wo Optimierungsbedarf besteht.
Facebook Retargeting Tracking Pixel
The Facebook pixel allows you to track actions that happen on your website as a result of Facebook ads (paid) or organic reach (unpaid). These are called events. You can place events on pages that are important to your business.
Facebook-Pixel includes:
Facebook Conversion Tracking Code
Facebook Conversion Tracking Page View Code
Facebook Conversion Tracking Sale Code
Google Tag Manager
With the Google Tag Manager, you can integrate your code snippets such as tracking codes or conversion pixels on your websites and mobile apps without interfering with the source code. The Google Tag Manager code only needs to be integrated once.
Plista Tracking Code
Pilsta is a provider of native ads in the editorial environment of your target group. With the tracking code, you can easily track your Pilsta ads and the customer journey.
Twiago Tracking Code
Twiago ist ein Anbieter für Native Ads im redaktionellen Umfeld Deiner Zielgruppe. Mit dem Tracking Code kannst Du Deine geschalteten Pilsta Ads und die Customer Journey einfach nachvollziehen.
TrackMagic
With this tool, you can see where your visitors come from, how they behave and where on your website the most conversions or sales are generated. This enables you to further optimise your website in order to sustainably increase your conversions.
Klick-Tipp Tracking
This tracking continuously checks which affiliate the contact who clicked on an affiliate link came from. This way you can track from which affiliate you generate the most clicks.
Display Last Customers
With the help of this tool, anonymised information about the last customer is displayed on the sales page. For example, "Marcel S. from Bremen last bought this product."